Saudi Arabia Reports 119 New Cases, Bringing Total To 511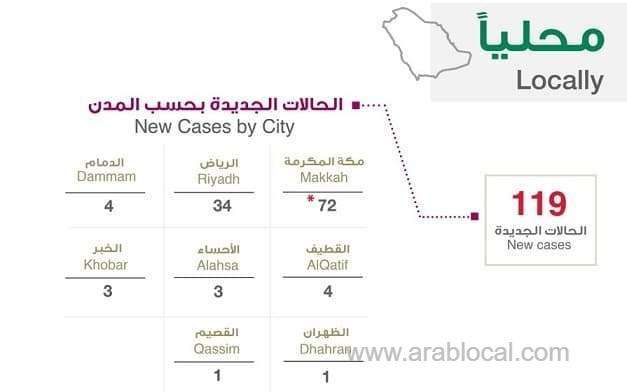 Ministry Of Health in Saudi Arabia announced 119 new cases of Coronavirus, Total reached 511, With 18 Recovered
Saudi Arabia's Ministry of Health reports 119 new cases of Novel Coronavirus (Covid-19) on 22nd March 2020 and now the total infected cases reached 511 with 18 recoveries in the country, while remaining 493 are being treated in the health centers of the Kingdom.
The ministry calls everyone to follow the guidelines and directives designed to limit the spread of the Covid-19. In case you feel fever, coughing or shortness of breath, isolate yourself immediately from others, we all are responsible for it.
- 72 infected persons are Turkish citizens detected in a hotel of Makkah and 40 cases are due to community contact, 23,000 laboratory tests have been conducted.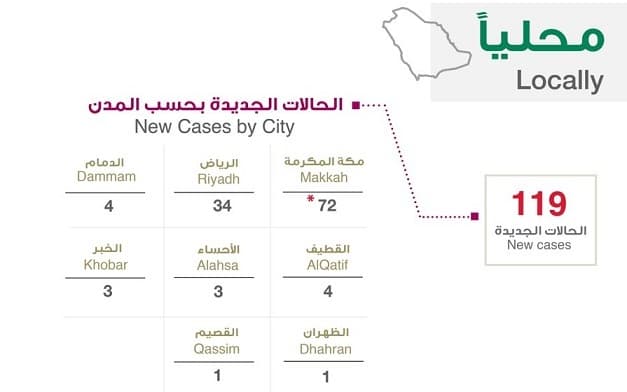 Among the 119 new cases on March 22nd, 2020 are :
Makkah: 72
Riyadh: 34
Qatif: 4
Ahsa: 3
Khobar: 3
Al-Qassim: 1
Dhahran: 1
Dammam: 1
- Those who needs more information about the Covid-19 and wants to know the precautions that need to be taken are welcomed to contact the ministry's toll free number 937.
- Don't visit to hospitals unless it is urgent, We request everyone to do not travel between cities unless it is necessary, We have repeatedly warned against attending events and gatherings because they are dangerous for members of society said the spokesperson of Ministry of Health in Saudi Arabia.
Source - Saudi Expatriates